Ah, the third trimester. For many women, including myself, it's the 'hardest' stage of pregnancy both mentally and physically. But like many people will tell you (whether you believe it or not), the end is almost near! It's worth it!
What's also worth it is continuing to eat healthy in your third trimester. Not only will it benefit the baby, but it will also benefit you during this last stage of pregnancy. There's nothing wrong with sneaking in some treats for yourself every now and again, but if you can maintain a 80/20 rule (eating healthy 80 percent of the time and indulging 20 percent of the time), you will feel better while waiting for that precious baby to arrive.
Third Trimester Healthy Eating Tips:
1. Start off each day with a healthy dose of fiber for breakfast.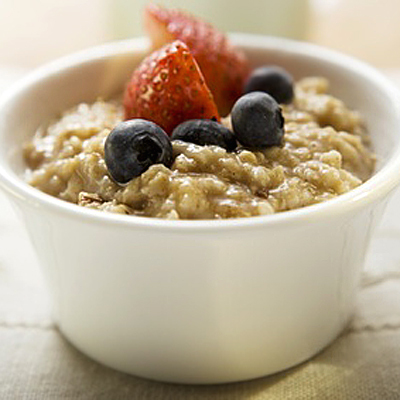 One of my favorite things to eat for breakfast is oatmeal. It's full of good-for-you fiber and has many health benefits such as lowering your blood cholesterol and preventing heart disease. Add some fruit, nuts, honey or cinnamon on top for a healthy breakfast during your third trimester.
2. Eat small healthy snacks in between meals that include protein.
One of my favorite go-to snacks is Chobani Greek Yogurt. I find them more creamy than regular yogurt and you can add so many things to them like cut up fruit, cinnamon, honey, or peanut butter for a very filling snack.
3. Buy the largest liter of water possible to drink throughout the day.
One of the most important things you can do for yourself and your baby during the third trimester is drinking a TON of water. Not only will this keep your hydrated but it will also help keep things moving, if you know what I mean. If you find water 'boring' to drink (who doesn't?), try adding some lemon slices or a splash of cranberry juice to it.
4. Stay away from processed foods and eat your greens and veggies every day.
One of my favorite salads is
Potbelly's Uptown salad
that has grilled chicken, grapes, apples, candied walnuts and more. Ask them to hold the blue cheese and hold the dressing on the side for a healthy lunch for your third trimester.
5. Treat yourself to small indulgences. Think 'quality' not 'quantity'.
It's very easy to allow yourself to think that you are 'eating for two' when it comes to portion size. But believe me, you don't want to go down this road during pregnancy, especially in the last trimester when women usually gain the most weight.
With my 2nd child, I gained 60 pounds (yikes!) because I wasn't watching my portion size and boy was it HARD to lose the baby weight. For this pregnancy, I've tried very hard to make sure I'm eating the correct portion and not going overboard.
One trick I like to use is to eat off of a salad/dessert plate so that I'm not filling up a huge plate of food 'just because'. Be mindful when you're eating and you will feel better.
Hang in there moms-to-be!! You're almost there and don't give up eating healthy in the last trimester!
Ciao!